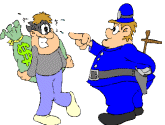 Everyone has a right to live in a community that is safe. Crime reinforces social exclusion and decline. It makes people reluctant to walk or to take public transport. It imposes economic costs. In the UK there has been a long-term rise in crime, although some offences have declined in recent years. Much acquisitive crime, such as shoplifting and burglary, is committed by drug misusing offenders to feed their habits. Fear of crime is common, particularly among women – over a quarter are very worried about physical attack.
In the UK the 1998 Crime and Disorder Act requires local authorities and police in England and Wales to implement strategies to reduce crime and disorder. In doing so, they must work in partnership with other local organisations and consult widely with the local community. A 250 million crime reduction programme was announced in July 1998, including pilot projects targeted at families, children and schools, burglary, targeted policing, sentencing, crime-resistant products, and reducing the risk of re-offending.
Overall policies on regeneration, planning, transport and social exclusion will all play a part in reducing crime. Community safety is emphasised in programmes such as the Single Regeneration Budget and Safer Cities. The Government's transport policy addresses the particular needs for safer public transport for women, older people and ethnic minorities.